I rarely every change makeup products or test new ones, once I find something I like I stick to it and therefore my every day makeup routine hardly ever changes. The following products are ones I have been using for a while and I will continue to use these until I find something better. So here are my absolute favourites (links below).
Revlon Colourstay Foundation (combination/oily): Sand Beige (180)
As someone with combo/oily skin, I found it really difficult to find a product that worked against this and didn't look cakey or too matte. The coverage in this foundation is medium/full which is the most that can be expected for a high street brand but this is definitely buildable. This covers any spots or discolouration in my skin really well but still manages to look lightweight. In my opinion, the only downfall for this product would be that I use it up very quickly compared to other foundations, I don't know if maybe I'm just using more but I feel that it takes more than it usually would to put on one layer.
Collection Lasting Perfection Concealer: Fair (1)
This product is super cheap for what you get. It's great for covering blemishes/spots as well as brightening areas. I would highly recommend this to any one who has issues with their skin because this is a high coverage concealer that does not disappoint.
Rimmel Stay Matte Pressed Powder: Transparent (001)
I have been using the powder for years and still love it, I've tried others but this one is still my favourite because it gives me a matte finish without feeling heavy on my face. It also adds a little extra coverage which is great for bad skin days.
Collection Contour Kit Highlight & Sculpt
I love the bronze colour in this kit, I think its really difficult to find the perfect colour because many are too orange or too dark brown but this one is perfect and its matte which is even better. It's very cheap and surprisingly pigmented for the price. Although I don't like the highlighter in this kit because I feel it's a bit flat and dull, I love the contour!
No.7 Natural Blush Tint Powder: Soft Damson
This is a really subtle blush colour which I prefer in all honesty. it literally just tints my cheeks as I don't like too much going on, especially if I have contoured and I'm wearing a lot of eye makeup. This colour is buildable which is good if you're looking for a more prominent blush but it's not a very strong colour overall.
New Look Glow Baked Highlighter Powder: Light Pink (70)
This is one of my favourite products. This highlighter is so pigmented and I get so many compliments on it. It's a really good dupe for the MAC Mineralise Skinfinish and less that half the price. All my friends ask to borrow this and I actually bought it to a few of them for birthday and Christmas presents and they all love it. The colour I chose was light pink and honestly there isn't much of a pink under tone, I picked it because it meant it was just a flat white like other highlighters, it looks like an ivory colour which looks so good.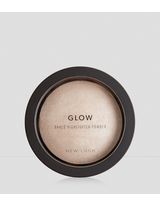 Urban Decay Naked Palette
I use this all the time so even though it is a bit more expensive, its definitely worth it. the colours are really pigmented and blendable and this palette is my favourite out of all the Naked palettes because its got the most neutral colours which I wear most during the day. On an every day basis, I use 'Naked' as a base and 'Virgin' to highlight under my brow bone. for daytime I feel the colours that go best together are 'Sin' on the lid with 'Toasted' in the crease or 'Sidecar' on the lid and 'Buck' in the crease. The other colours I usually use for going out makeup as they are a bit darker.
Bourjois Feutre Eyeliner: Noir (11)
Unlike other felt tip eyeliners, this one is a prominent black and is very easy to use. I prefer to use this type of eyeliner because its fool proof, especially when it comes to the wings which is the hardest part. However, I didn't feel this product ran out rather quickly which was disappointing but to be expected with felt tip eyeliners.
Clinique High Impact Mascara: Black (01)
I've yet to find another mascara which makes my lashes look like this and stays on all day. I've tried all the hypes of Maybelline last sensations (which is also very good) and Benefit Bad Gal Lash but none have come close to this. this shows in the price as this is a little more expensive but much needed as I've very short lashes, plus it has the brush applicator which is a massive positive. I rate this product so much and would 100% repurchase.
Revolution Ultimate Brow Palette: Medium to Dark
I hadn't heard much about this palette even though its been about a while but fell in love with it immediately as I got it as a gift from my mum. There are so many shades to choose from (wax and powder) to make sure you get the perfect shade and since I've been using this I've gotten a lot of compliments. There is also a highlight wax and power which really defines the brows and make them stand out and look clean cut. This is such a good palette for the price and I would definitely recommend.
Gosh Velvet Touch Lipstick: sweetheart (161)
This lipstick is so creamy and soft on the lips but still has a strong colour. It's a pinky brown colour with undertones of mauve and its a subtle colour, perfect for day time or a night out. This is definitely my go to.
Links: